© Church Ruin in Ardpatrick graveyard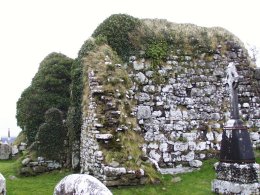 The ruined church at Ardpatrick dates from the eleventh or twelfth century. The first church on this site may have dated from as early as the fifth century, but no trace of this church now remains. Torlogh O'Connor plundered the church at Ardpatrick in 1127AD and Ceallach, the Archbishop of Armagh died here in 1129AD. The round tower that stood on this site had fallen before 1827, probably in a storm in 1824. All that remains now is the stump of the round tower.
Westropp mentions some other sites where churches were situated in the past. These churches were at Mortlestown, Dungaddy, and Sunville. All of these churches were part of the parish of Particles before. Westropp also mentions a church at Kildonayn, which was located between the church at Dungaddy and Ardpatrick.
In his book "Ardpatrick" Fr John Fleming also mentions that there were churches called Ardmacwelan, Laurencetown, Saichaihaill, Dunyirish and Kill St Ann. No ruins remain of any of these churches nowadays.